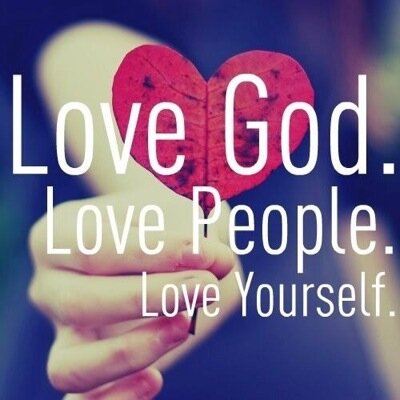 The force of love – Part 1
I was once told a story about a brother in a church who was having relational issues with another brother in the church. He went to the pastor and poured out his heart. He was quite upset about the fact this brother is just not behaving in a manner which is becoming of a Christian.
After all he had poured out the pastor just replied "just show him love."
That surely was not what he was expecting. The whole thing continued despite going out of his way to be nice to the brother. He went back to the pastor out of frustration to tell all he has been doing but to no avail. The pastor replied, "just love him a bit harder."
We can see from the above that the pastor was going on the premise that love is strong enough to make even a seemingly impossible situation possible.
The bible teaches us that God is love. 1 Jhn 4:16 "And we have known and believed the love that God hath to us. God is love; and he that dwelleth in love dwelleth in God, and God in him."
It also teaches us that nothing is impossible with God. It is therefore a simple equation to factorise that when we are truly wrapped up with God then nothing is impossible for us. We are created to reign, even more so that we are the redeemed of the Lord, but the only way for this to be realised is through unrepentant love for God.
So, how do we know that we love God?
1.We know we love God when we put the advancement of God's kingdom at the centre of what we do. We can advance God's kingdom by praying for the growth of his church or by winning souls for Christ.
2.  We know we love God when nothing is too much to give to him and his people. See the account of David in 1 Ch 21:22-25.
"Then David said to Ornan, Grant me the place of this threshingfloor, that I may build an altar therein unto the LORD: thou shalt grant it me for the full price: that the plague may be stayed from the people. And Ornan said unto David, Take it to thee, and let my lord the king do that which is good in his eyes: lo, I give thee the oxen also for burnt offerings, and the threshing instruments for wood, and the wheat for the meat offering; I give it all.And king David said to Ornan, Nay; but I will verily buy it for the full price: for I will not take that which is thine for the LORD, nor offer burnt offerings without cost. So David gave to Ornan for the place six hundred shekels of gold by weight."
God himself described David as a man after his own heart. David loved God and as result the promise of always having a heir on his throne is fulfilled. Isa 11:1-3
"And there shall come forth a rod out of the stem of Jesse, and a branch shall grow out of his roots:And the spirit of the LORD shall rest upon him, the spirit of wisdom and understanding, the spirit of counsel and might, the spirit of knowledge and of the fear of the LORD;And shall make him of quick understanding in the fear of the LORD: and he shall not judge after the sight of his eyes, neither reprove after the hearing of his ears:"
Rev 5:5 "And one of the elders saith unto me, Weep not: behold, the Lion of the tribe of Juda, the Root of David, hath prevailed to open the book, and to loose the seven seals thereof."
3. We know we love God when the things which are dare to God is dare to us. The bible gives an account of Nehemiah on how he wept when he heard of the state of Jerusalem. He was moved by it because he knew that Jerusalem is God's chosen city.
Neh 1 :3-5 "And they said unto me, the remnant that are left of the captivity there in the province are in great affliction and reproach: the wall of Jerusalem also is broken down, and the gates thereof are burned with fire. And it came to pass, when I heard these words, that I sat down and wept, and mourned certain days, and fasted, and prayed before the God of heaven, and said, I beseech thee, O LORD God of heaven, the great and terrible God, that keepeth covenant and mercy for them that love him and observe his commandments."
4.We know we love God when we love to be in his presence. This is not just being in church but always creating an atmosphere for you to communicate with the spirit and delight in doing it.
Psa 16:11 "Thou wilt shew me the path of life: in thy presence is fulness of joy; at thy right hand there are pleasures for evermore."
5.We know we love god when we serve him and keep his commands.
Jhn 14:15 "If ye love me, keep my commandments."
6.We know we love God when we praise him. Praise is the only thing that God can't give Himself so we must praise him to show our love for him. If we refuse, then the rocks will be commanded to praise him. Are we going to let rocks out praise us?
Psa 27:6 "And now shall mine head be lifted up above mine enemies round about me: therefore will I offer in his tabernacle sacrifices of joy; I will sing, yea, I will sing praises unto the LORD"
7.We know we love God when we love others and not just ourselves and family. How far would you go for someone who is not your close friend or relative?
1 Jhn 4 :7-8 "Beloved, let us love one another: for love is of God; and every one that loveth is born of God, and knoweth God. He that loveth not knoweth not God; for God is love."
8.We know we love God when we are addicted to his word and not the world. His word gives direction. It tells us how to live. If we truly him love, we will use those word as map to navigate us through life even if the words are contrary to the latest trends.
Psa 119:105 "Thy word is a lamp unto my feet, and a light unto my path."
As you read this week, I pray that a new love for God will be kindled in your heart .
As always thank you for reading, and I would love to hear from you, please feel free to leave a comment.
Remain blessed.
Kerrian N. Adebanjo